Michael Fontana
Chairman of the local group Terlan des
Hoteliers and Innkeepers Association (HGV)
Dear friends of royal vegetables!
Dear asparagus gourmets!
Spring will soon be here again and the asparagus hosts in Terlano will spoil you again with their sophisticated asparagus creations.
Our municipality with its villages of Terlano, Vilpian and Siebeneich is considered the asparagus stronghold of South Tyrol. Many hard-working hands have contributed to this success over the past decades. Every day, our asparagus farmers laboriously hand-pick these fine vegetables, they are lovingly processed in the Terlano winery, and in our restaurants Margarete asparagus is prepared in a sophisticated way and, most importantly, served fresh.
Continue reading......
---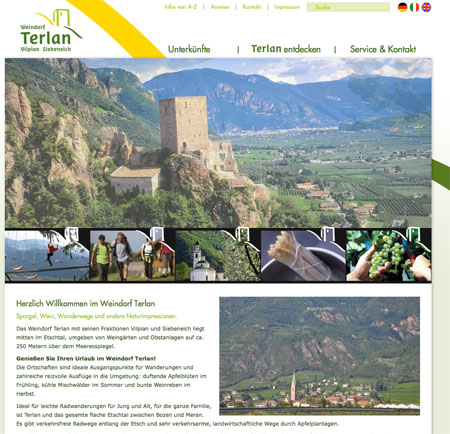 Welcome to the wine village of Terlano
Asparagus, wine, hiking trails and other nature impressions.
The wine village of Terlano with its districts of Vilpian and Siebeneich is located in the Adige Valley, surrounded by vineyards and orchards at around 250 meters above sea level.
Enjoy your holiday in the wine village of Terlano!
The villages are ideal starting points for hikes and numerous attractive excursions in the area: fragrant apple blossoms in spring, cool mixed forests in summer and colorful vines in autumn.
Continue reading......